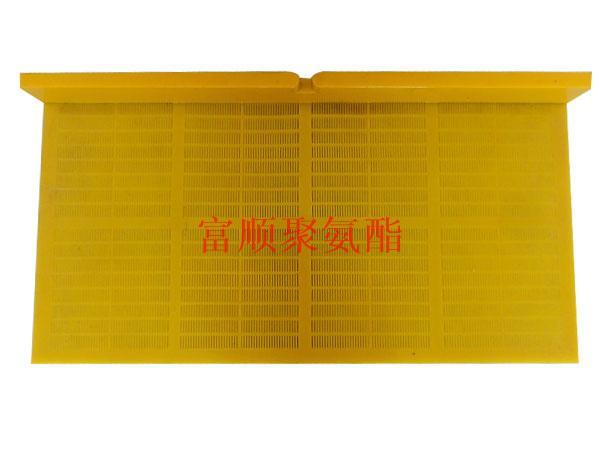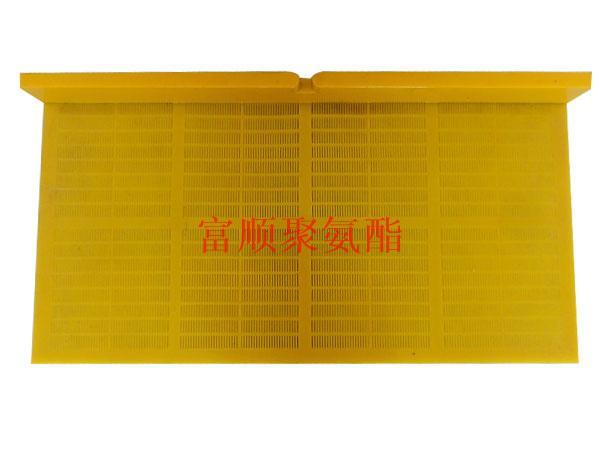 008 FSW dewatering screen with back slit
---
Our products mainly include PU sieve plate, screen, wear-resistant PU plate, impact-resistant plate, buffer sheet, PU scraper blade
008 FSW dewatering screen with back slit
---
Polyurethane Belt back seam dewatering screen Yantai Fushun Polyurethane Co., Ltd. Polyurethane Belt back seam dewatering screen is widely used in screening machines in metallurgy, mining, coal, building materials, water conservancy, road construction and other industries. It is a replacement product of steel plate perforated screens, steel wire braided screens, stainless steel screens and rubber screens. It has the advantages of light weight, high screening efficiency, no hole blocking, anti-friction, impact resistance, tear resistance, long life (5-8 times that of steel screens), low noise, easy installation, and high comprehensive benefits.Uses: metallurgy (iron ore, limestone, fluorite, cooling blast furnace slag, coke and other raw materials), non-ferrous, yellow, coal, chemical industry, building materials and hydropower engineering, abrasive waste treatment, quarries and other industries, ore washing, screening, grading and other industries.The new type of structural pattern screen plate with various format specifications and screen sizes is especially suitable for occasions with strong impact, high hardness and high wear resistance.Wear-resistant screens are used for fine crushing and screening of iron ore, grading of raw coal, gold, building materials, and screening of sand and gravel in hydropower and nuclear power projects.Size specification:305*305*30 305*305*45 305*610*30 305*610*45 The width of the seam is 0.1, 0.2, 0.3,......2.0, 2.5, etc., the length is 14-16mm.Polyurethane dewatering screen has the characteristics of long service life, not easy to block holes, oil resistance, water resistance, light weight, easy installation and so on.It can also be customized according to the specifications and sizes required by customers!
Main products
Our products mainly include PU sieve plate, screen, wear-resistant PU plate, impact-resistant plate, buffer sheet, PU scraper blade, lining plate, mechanical overlay, PU rubber canvas plate, rubber-coated iron plate, PU rod, PU rope, PU head sheave liner, seals, PU auto parts, Wheel stopper,PU rubber hose, mining roller, wheel, mining impeller, sheath and various PU machine parts.
Our strengths
Our mining PU sieve plate and screen products with various models are substitute products for manganese steel, rubber and stainless steel sieve plate and screen, and are used by more than 100 mining units all over China. The life is 4-11 times that of manganese steel screen and more than 5 times that of rubber sieve plate. The PU slush pump piston cup is used in the oilfield and the life is more than 5-6 times that of rubber piston. The PU rod is used as coupler and the life is more than 6 times that of nylon rod. Our company provides wear-resistant auto parts for domestic car manufacturers throughout the year.
Hotline
Sales Manager
086-13792599810
微信扫码我们

Mobile phone official website

Yantai Fushun PU Products Co., Ltd.

---
Copyright © Yantai Fushun PU Products Co., Ltd.